Pagel U 10/40/80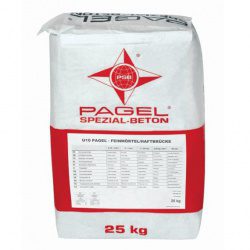 Cementitious, ready-to-use grout.
Ideal for use on vertical, horizontal and overhead surfaces.
Sprayabl.
Extremely stable and bonds strongly.
Only requires the addition of water.
Also available with synthetic or steel fibres.
Frost and road-salt resistant.
Microsilica tempered.
Prevents the intrusion of CO2.
Building material class A1 (non-combustible) as specified by EN 13501 and DIN 4102.
Conform EN 1504-3, EN 13813.
Technical specifications
Processing:
Introduce at plastic consistency into the not yet set adhesion bridge, distribute it and smooth it. For application by the spray process, ask for special technical advice if this is required. Take account of expansion joints.
Consumption:
Pagel U 10: +/- 1,8 kg / dm³
Pagel U 40: +/- 1,9 kg/dm³
Pagel U 80: +/- 1,9 kg/dm³

Packaging:
25 kg
Layer thickness:
Pagel U 10: 5 - 20 mm
Pagel U 40: 10 - 40 mm
Pagel U 80: 30 - 80 mm