For masters of excellence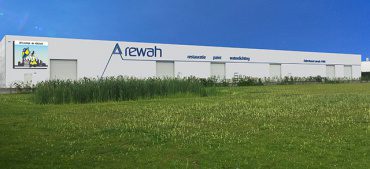 Introduction
Rewah has an established reputation in the fields of restoration, water sealing and concrete construction. Customers can choose from a complete, market oriented product range, and also count on thorough technical support. Ever since the company was founded in 1985, Rewah has been synonymous with professionalism, quality and service. A close working relationship between our technical advisers and research laboratory has resulted in an innovative, up-to-date product range. Products manufactured by Rewah, generate approximately 75% of the company's turnover. In addition, Rewah imports various other specialized products to complement its own production.
Rewah doesn't offer products, but solutions !
The Rewah laboratory is the co-ordinating centre of the production division. This is the home of the company's research team, which is constantly working on the development of new products and specific "customised" solutions for the end user, in addition to its quality responsibilities associated with the daily checks of raw material, production processes and finished goods. The production division is divided into four manufacturing units, each working with their specific mixing equipment. This enables Rewah to offer the most extensive range of end products: from thin to thick fluid products and from pastes to powder mixtures. The modern equipment and factory buildings of Rewah comply with the strict EU legislation on operational, environmental and labour regulations.
Our product range
Rewah delivers products for restoration, water sealing and concrete construction in the widest sense of the term. The company offers a total solution with its own products and a selection of top brands to the general construction industry. Customers can call on Rewah for solutions concerning:
cleaning and restoration of buildings and monuments
general water sealing and water control
additives for mortar and concrete
moss removal and roof renovation
interior and exterior paintworks
decoration techniques
filling and anchoring mortar
concrete renovation with various specialities
cement and artificial resin flooring
steel fibres for concrete structures …
Winning assets
The quality of the products of Rewah is supported with various approvals and test reports from such organisations as ATG – Butgb, CSTC, IRPA, KUL, BENOR, Rewah also complies with all standards relative to operation, the environment and waste treatment. The company works in accordance with VLAREM and ARAB [industrial safety] regulations and is a member of VAL-I-PAC. Motivated technical advisers and the laboratory back an enthusiastic team of well-trained sales representatives. Together, they are able to provide a guaranteed source of knowledge and experience, which is completely available to all customers. In addition, Rewah is a member of trade associations such as ICOMOS and WTA. The company also sits on various workgroups with official authorities, geared to optimizing product quality.
Today
Thanks in particular to its takeover of small, specialised companies, Rewah has managed to put together a quality product package, mastering all the detailed product knowledge. The success of Rewah stems not only from quality, but also from the dedicated and professional approach of all its employees. The parent company in Zandhoven currently employs 32 people. In addition, Rewah has a number of international customers and distribution arrangements.
Tomorrow
Rewah has built a resource base for experts on strong foundations of know-how and experience. The company is intent on following developments in the construction sector closely and is already working on the knowledge of tomorrow. Rewah remains true to its philosophy, of being a "prophet in one's own country," but also dares to go beyond the boundaries, both literally and figuratively. Quality and service are sound values that will underpin the company's future direction.
Want to know more about Rewah's vision and values? Discover them here