Aqua Multi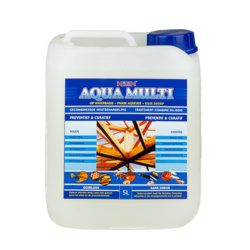 For the preventive treatment of healthy wood and for the curative treatment of affected wood against insects and mould including dry rot (Serpula lacrymans).
Aqua Multi is a ready to use insect-, mould, and termite killing micro-emulsion for preventive and curative treatment of lumber such as truss, wooden framework etc.
The product received good references from the experts commission for commercialisation of the product, on a base of toxicological and ecotoxicological dossiers.
Aqua Multi is suitable for use both indoors and outdoors. Once it has dried completely, the treated wood can be further processed with paint, varnish and wood stains.
Aqua Multi is in conformity with EEC Biocides Directive.
Authorisation by Min. of Public Health and the Environment: n° 496 B.
After the treatment, risk classification 1 and 2 according standards EN 335-1 and EN 335-2 are covered, as well as risk classification standard 3-A is covered (wood outdoors, no ground contact, resinous and hard wood).
Technical specifications
Processing:
Preventive treatment
Smear or pour liberally on all sides of the dry and dust-free wood.
When treating a lot of sapwood, it is necessary to execute the treatment two times.
It is also possible to spray under low pressure or to immerse minimum 15 minutes.

Curative treatment
Injection into previously drilled holes 6 to 12 mm in diameter, holes in stretching bond at intervals of 25 to 30 cm.
Afterwards smear or pour liberally on all sides of the dry, dust-free wood.
Consumption:
Preventive treatment
Smearing, pouring : 0,1 – 0,2 ltr/m²
Soaking : 20 – 25 ltr/m³

Curative treatment against insects
Smearing, pouring : +/- 0,3 ltr/m²
Injection under pressure : +/- 0,8 ltr/m²

Curative treatment against fungi
Smearing, pouring : +/- 0,5 ltr/m² apply several coats
Injection under pressure : +/- 1,5 ltr/m²
Packaging:
1 ltr, 5 ltr, 25 ltr