Aquapox Primfix Conc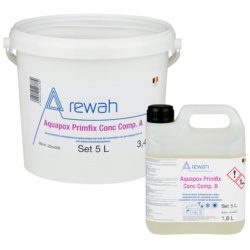 Used for the preparation of expoy primer of concrete hardener.
As epoxy primer : used as primer to ensure a good adhesion of water based epoxy finishings.
As concrete hardener : to offer an added value to concrete floors and constructions. Hardens the concrete, making it dust free, improves the chemical resistance and makes the concrete waterproof.
Two components, to be mixed.
Concentrated product, to be deluted depending on the use.
Water based.
Technical specifications
Processing:
Two components, to be mixed.
Consumption:
As epoxy primer :
+/- 0,15 ltr/m² Aquapox Primfix Conc = +/- 0,25 ltr/m² mixture
As concrete hardener :
+/- 0,15 ltr/m² Aquapox Primfix Conc = +/- 0,30 ltr/m² mixture/1st layer
+/- 0,10 ltr/m² Aquapox Primfix Conc = +/- 0,20 ltr/m² mixture/extra layer
As concrete hardener on cement plasters :
+/- 0,25 ltr/m² Aquapox Primfix Conc = +/- 0,50 ltr/m² mixture/1st layer
+/- 0,25 ltr/m² Aquapox Primfix Conc = +/- 0,50 ltr/m² mixture/extra layer
Packaging:
Set of5 ltr
Dosage:
As epoxy primer : 5 ltr Aquapox Primfix Conc + 3 ltr water
As concrete hardener : 5 ltr Aquapox Primfix Conc + 3 ltr water