Aquasil RS 8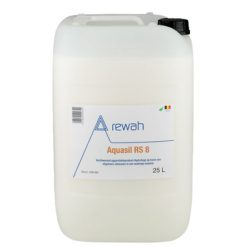 Aquasil RS 8 is used to decrease moisture infiltration in brickwork and natural stone without modifying the water vapor permeability.
By reducing moisture absorption the materials are not as easily soiled and damage by acid rain is also limited.
Apply on brick, stone, etc…. on the basis that these materials are sufficiently porous. The product is not suited to be applied on non-porous surfaces like blue stone, marble, glazed stone…
Not suited to be applied onto surfaces covered with organic paints.
Water based product and therefore causes no smell which possibly might arise when using solvent based products.
Aquasil RS 8 is composed of oligomer siloxanes in an aqueous emulsion.
Has 8% of active ingredients.
The product has a high penetration capacity and a good resistance to alkali and UV rays and can be applied on a slightly damp substrate.
Aquasil RS 8 polymerises with functional groups of the base to a non-adhering polysiloxane.
Powdery materials first must be treated with a stone hardener from our range Artisil SVS 75 or Artisil SVS 100.
Technical specifications
Processing:
Treatment should preferably involve applying the liquid to the surface, under low pressure, in order to prevent any fogging or vaporisation of the product.
The product should be applied from bottom to top, using horizontal back-and-forth movements, in order to apply approx. 20 cm strokes.
Two treatments should be conducted wet-on-wet.
Consumption:
Between 0,25 ltr to over 1 ltr per square meter depending on the porosity. For an accurate estimate absorption tests with the Karsten pipe will be conducted.
Packaging:
25 ltr, 200 ltr
Test reports:
WTCB – DE 62-24632-17: influence on look, efficiency and drying
Realisations with this product