Artipox BT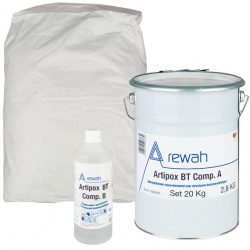 Artipox BT is a  3-component repair mortar with epoxy resin.
Applicable in horizontal layer (unlimited layer thickness).
Applicable in vertical layers (of up to approximately 5 cm).
Repairing concrete, both floors and constructive concrete.
Technical specifications
Processing:
Apply a preliminary coating of Artipox Multi à ratio of 0,2 – 0,5 ltr/m².
Mix the 3 components of Artipox BT : Mix intensely component A with component B, this is the binder. While stirring add component C (filler) and continue stirring until a homogeneous mass is obtained. Mix only with a paddle mixer or heavy drilling machine.
The mixed mortar can be applied to the wet primer.
For thick layers it could be necessary to add formwork. It is important to treat the formwork with a special wax or foil to make the form removal easier.
Tools are to be cleaned with Articlean 02.

Consumption:
+/- 2 kg/ltr of the space to be filled (= +/- 2 kg/dm³)
Packaging:
Predosed sets of 20 kg
Dosage:
Component A: 2,8 kg
Component B: 0,2 kg
Component C: 17 kg

Related products

 Specific cleaning and degreasing product for epoxy applications.
>>> More info