Artipox HR/RB-2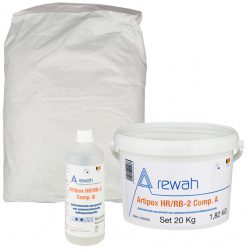 Artipox HR/RB is especially designed for the restoration of beam heads and beam head joints that are damaged by wood rot and insects.
Well flowing epoxy mortar with particularly high adhesion to wood.
Furthermore, it has a particularly low cold flow and a nearly shrink-proof hardening, allowing almost no heat to be released.
The mortar is slightly elastic and can in this area be compared to oak wood.
Epoxy resin mortar composed of:

Component A modified fluid epoxy resin with pigment
Component B amino-amide hardener combination with slow reaction rate and very low heat development during the reaction
Component C mixture of mineral fillers especially designed to ensure a good flow

Don't forget to clean materials and tools with Articlean 02.
Technical specifications
Processing:
Immediately pour the mixed mass into the formwork that was put around the beam body.
This formwork can be permanent usually, it is then made of oak and worked into the existing beam.
In case the formwork has to be removed, a formwork removal agent has to be put on it, a micro crystalline wax.
Leave the beam head propped during at least 7 days.
The reinforcing bars are filled or injected through their drill holes along the beam side.
Consumption:
1,9 kg/ltr
Packaging:
Predosed sets of 28,8 kg
Related products

 Specific cleaning and degreasing product for epoxy applications.
>>> More info