Artipox VL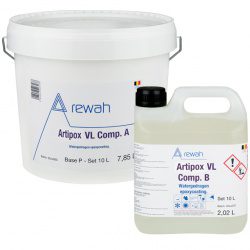 Artipox VL is a solvent-free two-component epoxy coating for industrial use.
Abrasion-proof and chemical-resistant coating for horizontal surfaces in metal or concrete.
Artipox VL is mainly applied as a hardwearing coating for industrial flooring, silos, sterile rooms etc.
Finish off with an antiskid treatment if so desired by sprinkling the Artipox VL with granular cover material (sand, corundum, silicon carbide).
Technical specifications
Processing:
Mix components A and B thoroughly in the predosed quantities.
Artipox VL can be applied with a brush or a roller brush in two layers at an approximate 8-hour interval at 20°C.
At 20°C the Artipox VL begins to harden after +/- 45 minutes.
Clean the tools with Articlean 02.
Consumption:
1st layer: 0,125 – 0,190 ltr/m² dependent on the ground (dilute with +/- 5% ARTICLEAN 02)
2nd layer: +/- 0,150 ltr/m² dependent on the ground


Colors:
Standard colours : RAL 3011, 6011, 7001, 7023, 7024, 7035.
Packaging:
Predosed sets of 10 ltr
Related products

 Specific cleaning and degreasing product for epoxy applications.
>>> More info