Cemdure Quick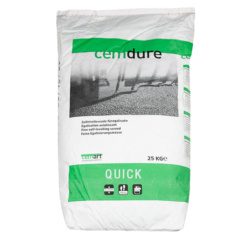 Self-levelling equalisation for thick layers.
Suitable as sub-floor for carpets, tiles, stone, parquet…
Can be finished quicker than normal levelling compounds.
Cement based (high quality aluminium cement).
Quick hardening.
Seamless, shrink- and tension free.
Technical specifications
Processing:
Use pure drinking water only with a max. temperature of 20°C (4.75 ltr per bag of 25 kg). Respect this dosage.
Apply Cemdure Quick in 1 movement in a thickness of 0 - 10 mm, but can be applied till 15 mm thickness.
Half hardened material can easily be reshaped or cut.
In normal circumstances the surface is walkable after 1 - 2 h.
Fully operational, depending on the circumstances, after 1 week.
Consumption:
+/- 1,75 kg per mm thickness /m²
(added water = 19% (4,75 liter/bag of 25 kg)
Drying time:
Walk on after 1 - 2h
Light weight after 24 h
Fully operational after 1 week

Colors:
Grey
Packaging:
25 kg
Laagdikte:
0 - 10 mm in 1 movement.
Total thickness of 15 mm.