Curing TR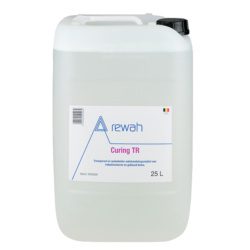 Curing compound for aesthetic concrete surfaces that in there "plastic" phase are submitted to atmospheric conditions.
Based on a selection of resin.
Forms a thin water damp barrier 20 minutes after application.
Protects against a premature drying out of the concrete due to a serious diminution of waterloose, caused by a combination of sunrays, low relative humidity and wind.
The risk of plastic shrinking cracks is reduced impressionable and the properties of the concrete are optimized.
Does not affect the aesthetic aspect of the concrete.
Technical specifications
Processing:
Apply Curing TR homogeneous, just after evaporation of the "bleeding" water.
Curing TR is easy to spray on.
Consumption:
0,100 – 0,120 ltr/m²
Colors:
Transparent
Packaging:
25 ltr, 200 ltr, 1000 ltr