Decamur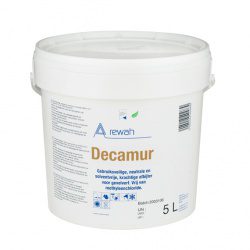 Powerful paint stripper.
Biologic degradable thixotropic liquid that applies perfectly on vertical surfaces.
In contrast to most current strippers, Decamur is water-based and completely free of solvents.
This is why Decamur barely or not evaporates and that the effectiveness on the paint layers is longer.
In such a way Decamur is much more efficient and has a lower consumption.
The treated paint layers can be easily rinsed off with steam or water under high pressure.
Newly developped stripper which is particularly suited to remove paint of facades.
In contrast to the most paint strippers, this product is water-based and completely free of solvents.
Safe to use, can be sprayed airless.
The product is likewise to be used inside without any danger.
Decamur can be used to remove water-based paints and emulsion paints on brick, natural stone, bluestone, marble, concrete, ….
Not suitable for mineral paints for example such as lime paint.
Technical specifications
Processing:
Pally non-diluted by using an airless, a brush or a roller.
After 10 minutes the effectiveness of Decamur is visible on the paint layer.
It is advised to try to scrape the paint off after 30 minutes to evaluate if the paint easily comes loose of the base. In case this is not possible, it is advised to place an additional layer and try again to scrape the paint off.
One hour after applying Decamur and if it was possible to scrape the paint off, the façade can be cleaned with water under high pressure (120 Bar) or with steam.
Consumption:
0,15 – 0,25 ltr/m² (= 4 – 8 m²/ltr)
Packaging:
5 ltr