Decastrip Max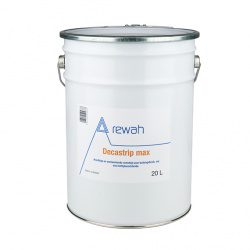 Decastrip Max removes layers of paint from wood, stone, metal, etc.
It enables you to strip away coats of paint made from a wide range of ingredients, such as latex, acrylate, oil, cellulose, alkyd, chlorinated rubber, polyurethane and epoxy.
Can also be used for removing adhesives, tags and graffiti.
Decastrip Max is a thixotropic product, made from a blend of solvents and softening agents. It provides excellent adherence on vertical/horizontal surfaces and can be easily rinsed away with water. It is characterised by its rapid action.
It does not contain any alkalis, acids or phenols and therefore does not attack metals.
You will need to protect any areas that you do not wish to strip (windows, glazing, elastic joints, etc.) using a suitable film and tape.
The surface must be dry and free of oil and grease. Before starting work, you should test the product on the surface and assess the results obtained.
Technical specifications
Processing:
Apply undiluted in a thick coat, using a brush or roller.
Depending on the type of paint, wait 5 - 15 minutes until the paint layers begin to swell and dissolve.
Then remove these layers using a scraper or high-pressure water spray.
In case of difficulties when removing the paint layers, we advise to clean by steam (make a test!). In some cases, for example when removing several layers of paint, it may be necessary to repeat this step.
In all cases, it is always necessary to thoroughly rinse the surface before application, so that the latter is properly clean and free of any residues of Decastrip Max, so that a new coat of paint can be applied without any problems.
Consumption:
0,2 – 0,5 ltr/m²
Packaging:
1ltr, 2,5 ltr, 20 ltr