Decastrip Max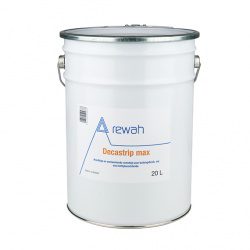 Paint stripper, removes layers of paint from wood, stone, metal, etc.
It enables you to strip away coats of paint made from a wide range of ingredients, such as latex, acrylate, oil, cellulose, alkyd, chlorinated rubber, polyurethane, epoxy, …
Can also be used for removing adhesives, tags and graffiti.
Not suitable for mineral paints for example such as lime paint.
Ready to use.
Made from a blend of solvents and softening agents.
Thixotropic: applies perfectly on vertical surfaces.
Rapid action.
Free of methylene.
Does not contain any alkalis, acids or phenols.
Efficient, lower consumption.
Technical specifications
Processing:
- Apply non-diluated by using an airless, a brush, a brush or a roller.
- Allow to soak in until the (paint) layers begin to swell and dissolve. This can take between
5 up to 30 minutes. Apply on a test patch in advance to evaluate the effect and speed.
- Remove the layers with a scraper or with water under high pressure.
- Use steam cleaning if necessary for paint layers that are difficult to remove.
- In certain cases (e.g. several paint layers), application of an additional layer may be required.
- Rinse the substrate very well afterwards to ensure that it is perfectly clean and that all residue of Decastrip Max is removed.
- Certain types of paint may require a longer contact time. To prevent the product from drying out, it is covered with a plastic film in case of longer contact times (up to 2 hours).

Consumption:
0,2 – 0,5 ltr/m²
Packaging:
1ltr, 2,5 ltr, 20 ltr