Econosil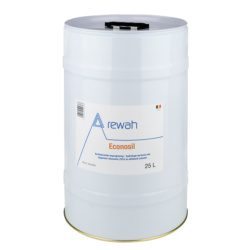 Econosil is used to decrease moisture infiltration in brickwork and natural stone without modifying the water vapour permeability.
By reducing moisture absorption the materials are not as easily soiled and damage by acid rain is also limited. Econosil is applied on brick, stone and related building materials on the basis that these materials are sufficiently porous.
The product is not suited to be applied on non-porous surfaces like blue stone, marble, glazed stone.
Not suited to be applied onto surfaces covered with organic paints or on synthetic plaster.
Econosil is a mixture of siloxanes and organometals in aliphatic solvents.
Must be applied to a dry base in contrast to Redisil S.
The product has a high penetration capacity and a good resistance to alkali (pH max. 12) and UV rays.
It adheres to the capillaries of the base where it polymerises to a moisture-proof complex.
Technical specifications
Processing:
It is preferable to apply the product by irrigating the base under low pressure in order to avoid spraying or atomising the product.
The application should start at the bottom going upwards in horizontal zigzag movements so that a runoff of approximately 20 cm is achieved.
Two subsequent applications must be carried out when the product is still wet. The use of a knapsack sprayer is recommended or an electrical pump designed for this which makes sure that the product flows over the surface under constant pressure.
Consumption:
Between 0,25 ltr to over 1 ltr per square meter depending on the porosity.
For an accurate estimate absorption tests with the Karsten pipe will be conducted.
Packaging:
25 ltr, 200 ltr, 1000 ltr
Test reports:
- WTCB – DE 577033/13: influence on look, efficiency and drying