Estetik Isolprim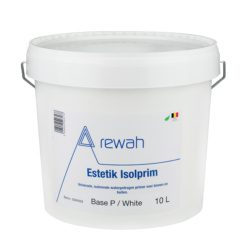 As an insulating primer for several types of pollution such as nicotine deposits, smoke and soot stains*, marks left by water, coffee and tea, the tannin from wood, etc.
As a base coat for different types of exotic species of timber.
As a bonding primer for various difficult, porous and non-porous surfaces (we recommend that you conduct a test first).
*The soot stains must be clean and dry. This is in order to avoid peeling. Always test beforehand.
Outstanding insulation properties against various types of stain (nicotine, rust, wood tannin, etc.).
Very good adherence.
Mat appearance.
Exceptionally fluid.
Good coverage.
Easy to work with.
Ideal base coat for Estetik finish.
Technical specifications
Processing:
Brush or roller : non-diluted
Airless : 0,015"-0,017"; 200-220 bar (160 bar with FFLP tip Graco)
Ambient temperature : minimum 10°C
Relative humidity : maximum 80%

Consumption:
0,10 – 0,15 ltr/m²/per layer depending on the base
Drying time:
Dust-dry after 1 – 2 hours
Can be painted over after 8 hours

Colors:
White, anthracite and 50 colours according to the colour chart.
Packaging:
1 ltr, 2,5 ltr, 10 ltr
Related products

Realisations with this product