Estetik Prim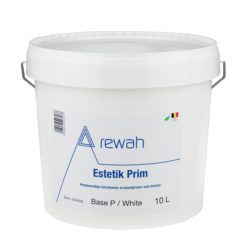 Basecoat for stony substrates: brick, plastered internal wall, plasterboard, etc, …
For treating and lightly sealing soiled surfaces.
For fixing slightly powdery substrates.
Matt look.
Exceptionally fluid.
Good coverage.
Easy to work with.
Neutralised absorption differences on porous substrates.
Slightly insulating.
Ideal base coat for Estetik finish.
Available in base paints.
Technical specifications
Processing:
Brush or roller : non-diluated
Airless : 0,017"-0,019"; 200-220 bar
Ambient temperature : minimum 10°C
Relative humidity : maximum 80%

Consumption:
0,10 – 0,15 ltr/m²/per layer depending on the base
Drying time:
Dust-dry after 1 -2 hours
Can be painted over after 4 hours


Colors:
Rewah Paint Colors (2024 colors) + a wide range available on the coloring machine.
Packaging:
1 ltr, 2,5 ltr, 10 ltr