Eurolan 3 K (Weber.tec 901)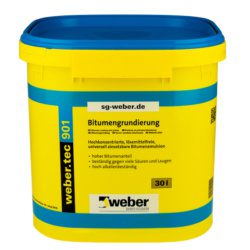 Makes concrete and foundation walls waterproof and protects them against the damaging impact of aggressive substances that are present in the soil.
Used in road construction in order to protect concrete sewers and inspection holes.
Eurolan 3 K (Weber.tec 901) is a solvent-free, odourless bitumen emulsion containing approximately 60% of fine dissolved bituminous particles. It does not contain any fatty acids or resin emulsifiers.
Resistant to many acids and lyes.
Bitumen emulsion, odourless, solvent-free, is compatible with cement and lime.
Ready to use, does not need stirring.
Technical specifications
Processing:
Strongly absorbing surfaces are first poured with a dilute solution: 1 part Eurolan 3 K (Weber.tec 901) + 10 parts water.
Apply with a brush, roller of sprayer.
Further, there are 2 to 3 (undiluted) coatings applied.
It is necessary that each layer is dried up before the next layer can be applied
Consumption:
0,20 - 0,25 ltr/m2/layer
Colors:
Black, brown.
Packaging:
30 ltr