Inducryl AW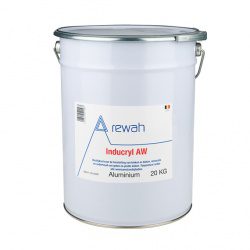 Inducryl AW makes it possible to repair leaks affecting zinc, tiles and other types of roofing.
It immediately makes all leaks waterproof.
Waterproof coating for joints around chimneys, roof edges, skylights, domes, etc.
This leak repair product can be applied to damp materials or in poor weather conditions. It can be used as a complete repair and maintenance product for flat roofs, if used in the appropriate way.
Inducryl AW is a thick liquid paste and available in two shades: aluminium and black.
The product consists of alkyd resins and a specially designed synthetic fibre, which remains mobile in the product during application and forms a reinforcement.
It takes approximately 14 days for Inducryl AW to dry fully, even if it rains continuously.
A highly resistant membrane is formed.
It is able to withstand UV rays and polluting substances.
Technical specifications
Processing:
Leak repairs :
After a leak has been detected, the affected area should first be carefully cleaned, before using a brush to apply sufficiently thick coats of Inducryl AW.

Repairs and maintenance - gutters and flat roofs :
When repairing and maintaining flat roofs, the roof construction must comply with the relevant design. In addition, the roof must be sound, sturdy, clean and free of any harmful coatings.
When used as a maintenance product, Inducryl AW should be applied directly as 2 cross-coats, wet-on-wet, to gutters and zinc roofs.
When applying the product to roofing, a first coat should be applied, before a glass mat or fabric is applied.
When the first coat is sufficiently dry and the fabric can be walked on, the final coat should be applied.
Do not apply the product onto a roof that has already been maintained or repaired.


Consumption:
1,5 kg/m² in total
Drying time:
14 days, even if it rains continuously
Colors:
Black, Aluminium
Packaging:
20 kg