Inducryl Façade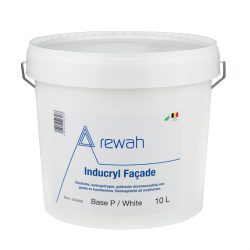 Intended for decorative use, waterproofing and protection of various construction materials such as brickwork, concrete, cement renderings and synthetic plasters.
Used in new construction and renovation and particularly when cracks and/or decorative faults must be masked.
As carbonation inhibitor on concrete.
Ready-for-use.
Carbonation inhibitor.
Waterproof.
Breathing membrane.
U.V. resistant.
Bridges small surface cracks and hides aesthetic shortcomings and repairs.
Technical specifications
Processing:
Apply in two layers with a brush, a roller brush or a spray gun.
Some water can be added to obtain the desired consistency.
Consumption:
0,150 – 0,250 kg/m²/layer
Colors:
Rewah Paint Colors (2024 colours) + wide range of colors available on the coloring machine.
Super matt till matt (85°: 4,5-6,0)
Packaging:
1 ltr, 5 ltr,10 ltr
Test reports:
K.U.Leuven Research and development Laboratorium Reyntjens PV R/27430/93
Related products

Realisations with this product