Indusil MS 3000 ISO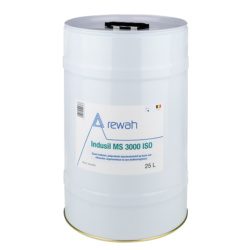 Indusil MS 3000 ISO is a solvent based injection product offering a sufficient protection to rising water.
Indusil MS 3000 ISO is injected just above floor level.
The product polymerizes in the capillaries and pores in order to form a watertight area preventing capillary rising damp.
It contains various ingredients :

An organosiloxane that polymerizes to a polymer with a hydrophobic methyl group and that also adheres to the capillaries.
An aluminium stearate that is an organic metal complex. In addition to its water-repellent quality this ingredient also diminishes the active tension and increases the penetrating capacity of the end product.
A modified wax that intensifies the water-repellent action and increases the "open time" of the product enabling it to spread out further in the most difficult circumstances.
An acrylic resin that forms a complex in combination with the wax partially blocking the salts that are present in the wall.
A virtually odorless isoparaffin solvent that spreads the active materials.
Technical specifications
Processing:
The product will be injected under pressure with a specialized injection tool.
The product can also be used following the transfusion method.
After injection, the drilling holes can be filled with a cement mortar or quick cement (Redivit)
Consumption:
+/- 1,5 ltr/linear meter /10 cm wall thickness
Packaging:
25 ltr, 200 ltr