Indusil SRM Aqua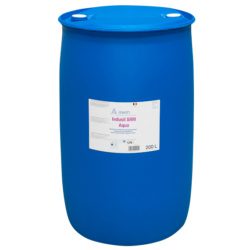 Protects concrete and similar alkali substrates against all weather influences and atmospheric or contaminating elements.
Ready for use.
After polymerisation, the product protects the concrete against most de-icing salts and agents such as chlorides, nitrites, metaborates, urea, glycols, etc.
Penetraties deep into the substrate, hydrolyses in the pores and capillaries to form a hydrophobic zone that still allows the substrate to breath.
The product prevents the intrusion of de-icing products into the concrete, and increases the frost-resistance of the concrete.
Due to its composition, Indusil SRM Aqua bridges hair cracks and bewares the concrete of premature detoriation.
Technical specifications
Processing:
The application is realised with a special designed spray equipment in two layers with an interval of maximum 2 hours between the two applications.
Consumption:
Min. 200 ml/m²/layer in function of the porosity of the concrete.
Colors:
Transparent
Packaging:
200 ltr, 1000 ltr
Test reports:
Febelcem: Report LRE/MSC/2002/0196: Impregnation of road concrete i.r.t de-icing products.
CRIC: Test report EM-01-113: Resistance against chemical de-icing products. Efficiency of impregnation.