Indusil SRM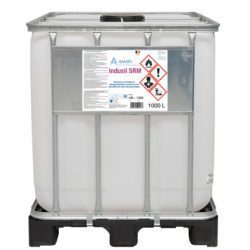 Indusil SRM is intended to prevent water, chloride ion intrusion salts and freeze thaw cycles from deteriorating the concrete.
Especially modified to resist also against glycols, nitrites and metaborates widely used as de-icing products on airports.
Indusil SRM is liquid and ready for use.
In combination with his selected solvents, which evaporates after application, the Indusil SRM penetrates deep into the substrate, hydrolyses in the pores and capillaries to form a hydrophobic zone that still allows the substrate to breath.
Due to his composition, the Indusil SRM can bridge hair cracks.
Indusil SRM protects the concrete against the effects of atmospheric, weather and polluting elements.
The product prevents the intrusion of de-icing products into the concrete, and increases the frost-resistance of the concrete.
Indusil SRM bridges hair cracks and bewares the concrete of premature detoriation.
Technical specifications
Processing:
The application is realised with a special designed spray equipment in two layers with an interval of at least 2 hours between the two applications.
Consumption:
Minimum 0,2 ltr/m²/layer in function of the porosity of the concrete.
Colors:
Colorless
Packaging:
25 ltr, 200 ltr, 1000 ltr
Test reports:
GEOS: report 21.442: Frost resistance test
CRIC: report EM-01-111: Determination of scaling resistance of surfaces exposed to de-icing materials