Indusil SRM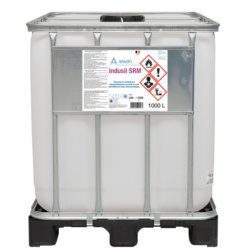 Protects concrete and similar alkali substrates against all weather influences and atmospheric or contaminating elements.
Ready for use.
After polymerisation, the product protects the concrete against most de-icing salts and agents such as chlorides, nitrites, metaborates, urea, glycols, etc.
Penetraties deep into the substrate, hydrolyses in the pores and capillaries to form a hydrophobic zone that still allows the substrate to breath.
The product prevents the intrusion of de-icing products into the concrete, and increases the frost-resistance of the concrete.
Due to its composition, Indusil SRM bridges hair cracks and bewares the concrete of premature detoriation.
Technical specifications
Processing:
The application is realised with a special designed spray equipment in two layers with an interval of at least 2 hours between the two applications.
Consumption:
Minimum 0,2 ltr/m²/layer in function of the porosity of the concrete.
Colors:
Colorless
Packaging:
25 ltr, 200 ltr, 1000 ltr
Test reports:
GEOS: report 21.442: Frost resistance test
CRIC: report EM-01-111: Determination of scaling resistance of surfaces exposed to de-icing materials