Lime paint Calciana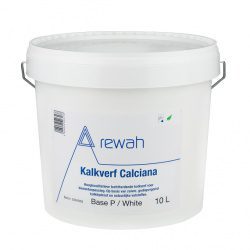 Suitable for monumental interiors.
Suitable for durable building.
As interior paint, if an authentic effect is desired.
Suitable for application on loam, calciferous materials, cement-based materials, natural stone, brick, mineral bases.
Made from dispersed hydrated lime and natural filler.
Stress relieving.
Free of resins and cement.
Does not contain any synthetic binding agents.
Technical specifications
Processing:
Stir thoroughly and carefully until a lump-free, homogenous "paste" is obtained.
A wide range of methods can be used to apply lime paint, in order to obtain unique and decorative results.
Except for the white paint, which can also be applied using a roller or airless paint sprayer,it must always be applied using an appropriate brush (or a block brush).
In order to prevent overlapping, large areas must be painted "wet on wet" as a single coat.

Consumption:
+/- 0,125 ltr/m²/layer depending on the structure and porosity of the base
Colors:
White and Lime Paint Calciana colorchart (+/- 110 colors).
Packaging:
1 ltr, 5 ltr , 10 ltr
Related products