KrampeHarex Twinmix DE 60/1 N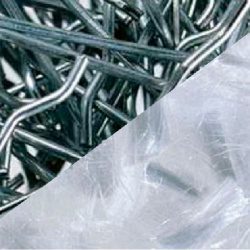 Mix of steel and polypropylene fibres to reinforce lightly loaded concrete floors, compression layers on hollow concrete floor and subfloors.
Technically the perfect alternative for classic contraction netting or light distribution reinforcement.
Mixture of high quality steel fibres and synthetic fibres.
ATG-certified.
Magnetic stacked boxes.
Technical specifications
Consumption:
Depending on the load, can be calculated by an extern research unit.
usually 1 set of 12,6 kg per m³ concrete.
Packaging:
Magnetic stacked boxes of 12 kg steel fibres + bags of 600 gr PP-vezel
Test reports:
ATG Technical approval with certificate : ATG 2487