Lasbeton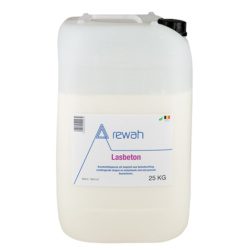 Lasbeton is used for concrete repairs and bonding coats between old and new concrete.
Suitable for artificial stone and for masking polished concrete
Used for fastdrying and hardwearing pavings with reducing shrink, fastbinding mortar for masonry of non-porous brickwork
For pointing mortar for natural stone.
Lasbeton is a chloride containing synthetic dispersion.
Lasbeton offers the concrete a faster binding and hardening?
Gives an increase in compressive solidity, in resistance to wear and traction.
Offers a greater resistance against salts and acid
Avoids the formation of haircracks, even with the realisation of very thin layers with a high content of cement.
Technical specifications
Processing:
Repair of concrete floors :
Bonding coat : 1 part Lasbeton + 1 part water + 4 parts cement + 4 parts sand
New mortar layer : 1 ltr of Lasbeton for 20 ltr of gauging water
New concrete layer dosage : 1 to 2% of the cement weight
Moisten the surface thoroughly with water. Increase the absorption by brushing in thoroughly with a bonding coat. When the bonding coat is still wet, apply the new concrete layer at desired thickness and finish off. Protect the concrete repairs against early dehydration by treating them with
Curing TR.

Rapid setting concretes :
Add Lasbeton to the gauging water, 0,5 to 2% in proportion to the weight of the cement. (1/4 ltr to 1 ltr per 50 kg of cement)

Artificial paving :
Add Lasbeton to the gauging water.
Dosage: 0,5 à 1ltr of the cement weight .

Pointing mortar for natural stone :
Add Lasbseton to the gauging water.
Dosage: 2 to 5% of the cement weight.

Special application :
To build with hard nonporous building stones; blocks of concrete, glass tiles among other things, we recommend the use of our product Lasbeton, in order to increase the solidity and the rapid setting of the new mortar.
This way several layers can be placed without the risk of "floating" stones.
A more plastic mortar can be obtained by a supplementary addition of our resin based air entainer Remix (mortar oil).
Consumption: ½ ltr of Lasbeton per 50 kg of cement.


Consumption:
0,5 to 2% of the cement weight
Colors:
White
Packaging:
25 kg