Membrasec Transparant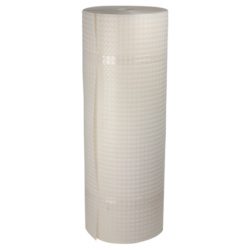 PE-studded foil to glue on salty and damp walls.
Apply immediatly after injection agains humid and salty walls, to finish off the walls immediately.
Also used as dranaige mat onto cellar walls, in the box-in-box system.
Fix with Membrasec Slagplug 30 mm – White.
Technical specifications
Processing:
Place the membrane with the blisters against the wall and the reinforcing mesh facing the outside.
Fix the membrane with the Membrasec Slagplug 30 mm - White.
Drill a hole in the blisters of diam. 6 mm ant 30 mm depth. Leave enough space between the holes. For plain walls the space needed is 35 cm, for irregular walls 20 cm is recommendend. This means 18 to 32 plugs are needed per square meter.
Place the plugs in the hols, and smash them into the wall with a hammer.
In places where holes cannot be drilled, such as water or electrical conducts, the Membrasec Transparent can be glued with mortar glue or mastic.
Consumption:
1 m²/m² (calculate an extra margin)
Packaging:
roll of 1 m x 30 m
Related products

Butyl tape for sealing the joints in Membrasec and Membrascreen systems.
>>> More info

Realisations with this product