Metarust Primer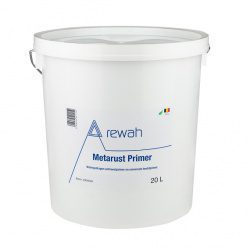 Anti-rust primer coat.
Fast drying, universal binding primer for metals, aluminum, stainless steel, synthetic material,…
For on ferrous and non-ferro.
Water based.
Excellent antirust properties.
Exceptional flow.
High water resistance.
Good coverage.
Easy to work with.
The base must be clean, dry and intact.
Clean off any dust and grease thoroughly and remove impurities.
Remove impurities by means of high pressure or steam.
Eliminate rust by mechanical treatment or blasting.
Technical specifications
Processing:
Brush or roller : undiluted
Airless : 0,017" - 0,019" ; 200 - 220 bar (5% dilution with water is possible)
Ambient temperature : minimum 10°C


Consumption:
0,10 – 0,15 ltr/m²/per layer, depending on the substrate
Drying time:
Dust-dry after 2 hours
Can be painted over after 24 hours
Colors:
White or anthracite (+/- RAL 7024)

Packaging:
1 ltr, 2,5 ltr , 20 ltr
Test reports:
Metalogic-test report 180430/REWA/SV/CT/068 (Corrosion category C3)