Monolys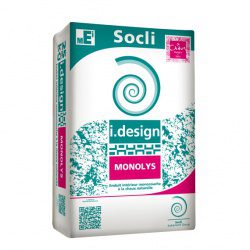 Lime coating as an interior wall coating for monuments and buildings.
Based on natural hydraulic lime (NHL 3,5), selected natural sands, marble powder and special adjuvants.
Due to its fine granulometry, the coating can be finished with lime or hybrid silane-based paint.
Extremely breathable.
Minimal risk of shrinkage cracks.
Can be used on uncoated surfaces as well as on Membrasec Blue.
Ready to use.
Technical specifications
| | |
| --- | --- |
| Processing: | Read our technical data sheet |
| Consumption: | 12 kg/m² for a plaster thickness of 10 mm |
| Colors: | White |
| Packaging: | 25 kg |
Related products
Studded membrane with PP-fabric for the immediate finishing of humid and salty walls.
>>> More info