Nafufill KM 103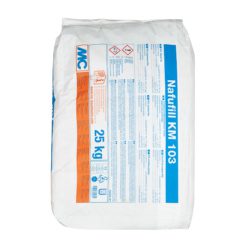 Repair mortar for levelling of concrete surfaces of civil and industrial constructions such as pillars, concret sleepers etc.
filling of pores and small holes, grind nests and rough parts.
Mono-component.
Apply manually or wet spray method.
Resistant to temperature fluctuations.
Can be painted over.
Tested an allowed ZTV-ING TL/TP BE PCC en TL/TP OS.
Conform DIN 4102-1 class B2.
Technical specifications
Processing:
Apply manually of by spraying method.
Apply in one or more layers.
Can be smoothened with filling knife.
For spraying method, use a volume variable screw pump. Ask for advice.
Consumption:
0,8- 1,75 kg/m²/mm
Depending on the porosity and roughness of the substrate.
Packaging:
25 kg