Nafufill LM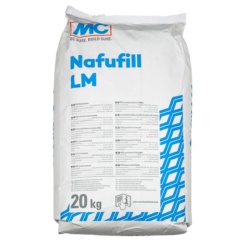 Mortar for the repair of normal and light concrete.
Suitable for indour and outdoor use.
Partial and complete repair of facades, balconies, galleries etc.
Principal 3: acoording to 3.1 and 3.3 following EN 1504-9
Mono-component, fibre reinforced.
Processing possible without adhesion layer.
Excellent adhesion on mineral substrates.
Can be applied manually of by spraying method.
Non flammable according to DIN EN 13501, Class A1.
Class R1 conform EN 1504, part 3.
Fire resistant conform DIN 4102-2, Fire resistance class F120.
Technical specifications
Processing:
Apply manually of by spraying method. For spraying method, use a volume variable screw pump. Ask for advice.
Apply in one or more layers.
When applied manually, apply thin layer first, then apply wet-in-wet.
Can be smoothened with wooden or rubber knife.
Consumption:
(Dry mortarl) 1,12kg/m²/per mm layer thickness= 1,12 kg per dm³ space to be filled.
Packaging:
20 kg