Oleofuge Façade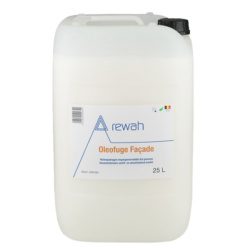 Oleofuge Façade is used to reduce the infiltration of moisture into porous building materials, without causing any significant changes to its water vapour permeability.
It also makes the surface water and oil repellent, so that the materials become soiled less quickly.
This product is therefore ideal for application in urban and industrial environments.
Oleofuge Façade can be applied to facades, bricks, natural stone, concrete, tiles, and on horizontal concrete surfaces, provided they are sufficiently porous. In this way, horizontal surfaces will be protected against infiltration of metaborates.
Not suitable for application on surfaces that have been covered with organic paints or synthetic coatings.
Based on silanes, siloxanes and fluorinated carbon resins, which are dissolved in water.
The product has a high penetration capacity and is highly resistant to alkalis (up to 13 pH), as well as UV rays. It can be applied onto slightly damp surfaces.
Oleofuge Façade polymerises due to the moisture present in the surface or in the air, in order to form a dry and tack-free polymer.
Powdery materials first must be treated with a stone hardener from our range Artisil SVS 75 or Artisil SVS 100.
Technical specifications
Processing:
Treatment should preferably involve applying the liquid to the surface, under low pressure, in order to prevent any fogging or vaporisation of the product.
The product should be applied from bottom to top, using horizontal back-and-forth movements, in order to apply approx. 20 cm strokes.
Two treatments should be conducted wet-on-wet.
Special precautions need to be taken when treating grounds, which contain low-porosity or non-porous materials, such as dressed stone, marble, glazed bricks, etc. In order to remove streaks and marks after application, you will need to clean these surfaces immediately, using a damp cloth, before allowing them to dry.
Consumption:
Between 0,25 ltr and 1 ltr per square metre, depending on porosity.
In order to assess how much product will be required, conduct absorption tests using a Karsten tube.
Packaging:
5 ltr, 25 ltr, 200 ltr, 1000 ltr
Test reports:
WTCB – DE REN-0012 N: influence on look, efficiency and drying