Oleofuge Façade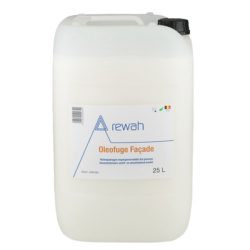 To reduce the infiltration of moisture.
Makes the surface water and oil repellent, so that the materials become soiled less quickly.
Can be applied to facades, bricks, natural stone, concrete, tiles, …
Only apply on porous, mineral materials.
Stops moisture infiltration.
Also protects against grease and oil penetration.
Ideal in cities and heavily polluted industrial areas.
Protects against frost damage (very important for (post-)insulated facades.
Does not reduce water vapour permeability, allowing the wall to continue to breathe.
Reduces the rate of soiling of the material.
Prevents greying (gypsification).
Limits deterioration caused by acid rain.
Protects against salts from sea water or de-icing salts dissolved in water.
Increases the insulation value of the treated surface.
Good resistance to alkalis.
Technical specifications
Processing:
Treatment should preferably involve applying the liquid to the surface, under low pressure, in order to prevent any fogging or vaporisation of the product.
The product should be applied from bottom to top, using horizontal back-and-forth movements, in order to apply approx. 20 cm strokes.
Two treatments should be conducted wet-on-wet.
Special precautions need to be taken when treating grounds, which contain low-porosity or non-porous materials, such as dressed stone, marble, glazed bricks, etc. In order to remove streaks and marks after application, you will need to clean these surfaces immediately, using a damp cloth, before allowing them to dry.
Consumption:
Between 0,25 ltr and 1 ltr per square metre, depending on porosity.
In order to assess how much product will be required, conduct absorption tests using a Karsten tube.
Packaging:
5 ltr, 25 ltr, 200 ltr, 1000 ltr
Test reports:
WTCB – DE REN-0012 N: influence on look, efficiency and drying