Oleofuge Floor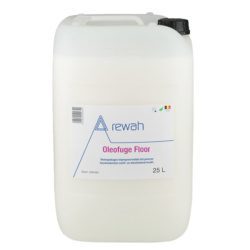 Oleofuge Floor is used to reduce the infiltration of moisture into horizontal porous building materials, without causing any significant changes to its water vapour permeability.
It also makes the surface water and oil repellent, so that the materials become soiled less quickly.
Oleofuge Floor can be applied on horizontal concrete surfaces, provided they are sufficiently porous.
In this way, horizontal surfaces will be protected against infiltration of metaborates.
Oleofuge Floor is a product, which is based on silanes, siloxanes and fluorinated carbon resins, which are dissolved in water.
The product has a high penetration capacity and is highly resistant to alkalis (up to 13 pH), as well as UV rays.
It can be applied onto slightly damp surfaces.
Oleofuge Floor polymerises due to the moisture present in the surface or in the air, in order to form a dry and tack-free polymer.
Technical specifications
Processing:
Special precautions need to be taken when treating grounds, which contain low-porosity or non-porous materials, such as dressed stone, marble.
In order to remove streaks and marks after application, you will need to clean these surfaces immediately, using a damp cloth, before allowing them to dry.
Alternatively, you may wish to saturate the surfaces with water. If in doubt, we recommend that you first test the product on a small area.
This will enable you to detect any faults and observe changes in appearance that can be caused by this type of treatment.
Treatment is not recommended if efflorescent salts are present.
The ideal temperature for application is between 5°C and 30°C.
The product must not be applied at temperatures below 5°C or to surfaces, the temperature of which is higher than 30°C.
Consumption:
Between 0,25 ltr and 1 ltr per square metre, depending on porosity.
Colors:
Mly white
Packaging:
5 ltr, 25 ltr, 200 ltr, 1000 ltr
Test reports:
WTCB: influence on aspect, efficiency, drying.