Omniclean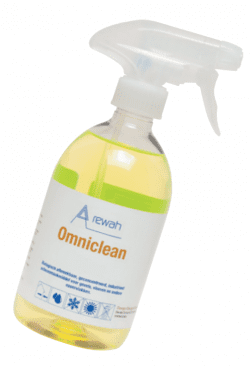 Especially developed especially for the cleaning and the brightening of heavily polluted surfaces.
Removes dirt of different origins like the sediments and stains of mineral, animal and/or vegetable oils and fats, the most diverse atmospheric contaminations, plant growth, food rests, bird droppings, rubber marks, …
Perfectly suitable for the cleaning of various materials such as concrete, enamelled bricks, marble, decorative plasterwork, paints, synthetic materials, granitic coatings, metals, …
Ready-to-use.
With a base of biodegradable modified tensioactives and detergents.
Has a high resolution and acts on the pollution so that the dirt is soaked off the surface in a way that it can be washed down with water.
Technical specifications
Processing:
- Apply undiluted by means of the spraying bottle.
- Should be treated from bottom to top.
- As soon as the Omniclean is applied, scrub in lightly with a brush.
- Allow the product to act on for 5 to 10 minutes, according to the degree of contamination.
- Then clean the surface by means of a powerwash with a rotating head and cold water.
- In case of interior use or on small surfaces: scrub thoroughly with a hard brush.
- Subsequently rinse down the surface untill the foam has disappeared.

Consumption:
0,075 – 0,150 ltr/m²
Packaging:
Spraying bottle 0,5 ltr