Pagel V1 10/50/160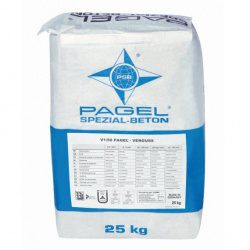 Universal mortar and grout.
High flowability. controlled and even expansion with high early and final strength.
Cementitious and chloride-free
Controlled and even expansion with a rigid bond between concrete foundation and machine base plate
High early and final strength
Low modulus of elasticity in connection with high bending strength
Low w/c-value (0.35)
Frost and deicing-salt resistant, waterproof, widely resistant to oil and petroleum
Pumpable and easy to pour – even at low temperatures
Certified to fire protection class A1 as specified by EN 13501 and DIN 4102
Application
Universal mortar and grout for precision machines of any kind.
Turbines, generators, compressors, diesel engines and other power equipment operating under heavy vibration.
Anchor screws.
Steel and concrete columns.
Prefabricated concrete units and structural steelworks.
Bridge bearings and construction joints.
Crane rails and radio telescopes.
Steel and blast furnace plants as well as mines.
Paper plants, chemical plants and refineries.
Pipe ducts in sewer systems, sewage works and drinking water storage systems, gas and water pressure sealing.
Technical specifications
Processing:
The mixture should be poured from one side or corner only in one continuous pour.
When grouting large areas, we recommend pouring the grout starting at the centre of the base using a funnel and/or a hose.
Always grout anchor holes first (up to just below the top edge of the anchor hole) and then proceed to routing the machine base etc
Consumption:
Pagel V1/10: 2,00 kg/dm³
Pagel V1/50: 2,00 kg/dm³
Pagel V1/160: 2,10 kg/dm³
Packaging:
25 kg
Layer thickness:
Pagel V1/10: 5 - 30 mm
Pagel V1/50: 20 - 120 mm
Pagel V1/160: 100 - 400 mm