Pagel V14 10/40/80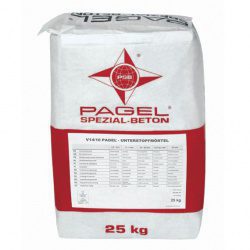 Non shrink high viscocity mortar, cement based.
Controlled and even expansion with a rigid bond between concrete foundation and machine base plate.
High early and final strength.
Has a plastic consistency and its density provides resistance to freeze / thaw-cycles, impervious to water and resistant to oil and chemicals.
Free of chloride and contains no alumina cement or other additives which may cause corrosion.
Easy to pour, need only be mixed with water.
Is ready for use with a working time of approx. 45 minutes at 20 °C, can be pumped and placed very easily.
Application
Placing under machine base plates, bridge bearings, fixator levelling units and pre-fabricated parts.
Repair on wall and floor treads, concrete outbreaks.
Filling of pre-fabricated part-joints.
Technical specifications
Processing:
Place carefully in one continous pour. For repair work use V14/10 as a primer in form of a slurry. Brush the slurry into the concrete surface and apply the mortar before the surface dries out.
Consumption:
Pagel V14/10: +/- 2,0 kg/dm³
Pagel V14/40: +/- 2,0 kg/dm³
Pagel V14/80: +/- 2,1 kg/m³
Packaging:
25 kg
Layer thickness:
Pagel V14/10: 10 - 30 mm
Pagel V14/40: 10 - 70 mm
Pagel V14/80: 50 - 100 mm