Pagel V2 10/40/80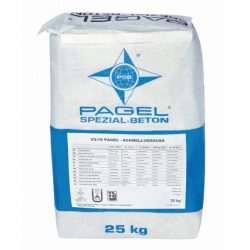 Cement-bound and free of chlorides.
Resistant to frost and dew-salt.
Develops a controlled increase in volume.
High early and final strength.
impervious to water and resistant to oil and chemicals.
Low modulus of elasticity and high bending tensile strength.
Low w/c-value (0.35)
Certified to fire protection class A1 as specified by EN 13501 and DIN 4102.
Can be pumped and is easy to process.
Complies with the DafStb Code of Practice (VeBMR) "Manufacture and use of cementbound grout and mortar".
Externally tested and factory quality controlled in compliance with the DafStb VeBMR Directive.
Application
quick setting grout mortar for precision machines of all kinds.
Turbines, generators, compressors, diesel engines and other power station equipment which are subjected to high vibrations.
Anchor screws, fixings and base plates.
Steel and concrete supports.
Finished concrete parts and steel constructions.
Bridge supports and bridge joint constructions.
Crane rails and radio-telescopes.
Rail support systems.
Used with the Vossloh Repair system for slab tracks DFF 300 for the German Rail [DEUTSCHE BAHN] repair system "Solid track".
Paper, chemistry and refining equipment, wind turbines, mobile phone transmission masts.
Steel and metallurgical works as well as mining installations.
Technical specifications
Processing:
The mixture should be poured from one side or corner only in one continuous pour. When grouting large areas, we recommend pouring the grout starting at the centre of the base using a funnel and/or a hose. Always grout anchor holes first (up to just below the top edge of the anchor hole) and then proceed to
grouting the machine base etc.
Consumption:
Pagel V2/10: 2,0 kg/dm³
Pagel V2/40: 2,0 kg/dm³
Pagel V2/80: 2,1 kg/dm³
Drying time:
Operational after 2 h, also with low temperature
Packaging:
25 kg
Layer thickness:
Pagel V2/10: 5 - 30 mm
Pagel V2/40: 20 - 100 mm
Pagel V2/80: 50 - 200 mm