PU Matcoat Color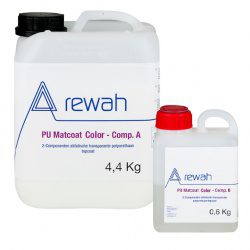 Used as a colored surface layer for decorative floor systems that need to retain their attractive appearance.
Highly adhesive.
Can be applied to epoxy/polyurethane systems.
Based on new environment-friendly technology.
The final result is attractive, understated, matt and highly elegant.
Hardens by physical and chemical cross-linking to form a solid film.
The product creates a final layer, which is rigid, abrasive, UV stable and easy to clean.
Beware: not resistant to most rubbers (castors, tyres…). It can leave brownish marks.
Technical specifications
Processing:
PU Matcoat Color is prepared by mixing components A and B (these components are pre-dosed).
Stir component A thoroughly before emptying the packaging contents into a clean mixing bucket.
Add all the hardener to the resinous component, then combine using a slow rotation mixer (200-400 rpm) for at least 2-3 minutes until you obtain a homogenous mixture.
Pour this homogenous mixture (through a sieve, if necessary) into a clean bucket and mix it again.
Leave the mixture to rest for 10 minutes, before mixing it again and beginning to apply the product.
PU Matcoat Color should be applied with a microfiber roller, using regular, criss-crossing movements.
It is important to use the indicated quantity at all times. After a certain time, use a new roller.
As PU Matcoat Color is a water-dilutable system, you will need to keep the area well ventilated while it hardens, in order to prevent hardening problems.
Consumption:
+/- 0,15 kg/m²/layer (optimal 2 layers)
Colors:
RAL-colours
Packaging:
5 kg, 10 kg
Dosage:
In weight = A : B = 100 : 13,6
In volume = A : B = 100 : 12,4