Redinet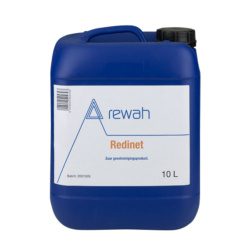 Redinet is a viscous mixture of strong acids.
Because of this viscous property, the ground doesn't soak up the product, which allows the active ingredients to act on the dirt that is situated on the surface of the material needing treatment without damaging the material unnecessarily.
Redinet is mainly used for the cleaning of dirty brick, with the exception of highly compact or porous brick.
Provided that Redinet is applied with due care, architectonic concrete and washed concrete can be cleaned with equal ease.
To be used with Acid Neutraliser.
Technical specifications
Processing:
Apply Redinet with an acid-proof brush.
Start applying the product at the bottom of the façade and work you way up in horizontal movements.
Make sure that the product is equally divided over the surface and that it does not form runners.
After a contact time of approximately 15 minutes, the façade is sprayed with Acid Neutraliser.
After this treatment the façade is rinsed off under low pressure, from top to bottom and in horizontal movements.
The final cleaning is done with water under high pressure (at least 100 Bar), from top to bottom and in horizontal movements until the foam has disappeared from the cleaned surface.
Consumption:
+/- 0,15 – 0,35 ltr/m², depending off the ground and the degree of pollution
Packaging:
10 ltr
Related products

Neutralizing product for acid facade cleaning materials.
>>> More info
Realisations with this product