Redisil S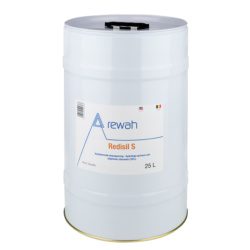 To reduce the infiltration of moisture.
Can be applied to facades and bricks.
Only apply on porous, mineral materials.
Stops moisture infiltration.
Protects against frost damage (very important for (post-)insulated facades.
Does not reduce water vapour permeability, allowing the wall to continue to breathe.
Reduces the rate of soiling of the material.
Prevents greying (gypsification).
Limits deterioration caused by acid rain.
Protects against salts from sea water or de-icing salts dissolved in water.
Increases the insulation value of the treated surface.
Good resistance to alkalis.
Technical specifications
Processing:
The product is applied by flooding the base under low pressure in order to avoid misting the product. The use of a knapsack sprayer is recommended or an electrical pump designed for this which makes sure that the product flows over the surface under constant pressure.
The application should start at the bottom going upwards in horizontal alternating movements so that a runoff of approximately 20 cm is achieved.
Two subsequent applications must be carried out when the product is still wet.
Consumption:
Between 0,25 ltr to over 1 ltr per square meter depending on the porosity.
For an accurate estimate absorption tests with the Karsten pipe will need to be conducted.
Packaging:
25 ltr, 200 ltr, 1000 ltr
Test reports:
WTCB – DE 622X837N: influence on look, efficiency and drying
BUtgb – ATG 2012: Technical approval with certification