Rewaclean Pro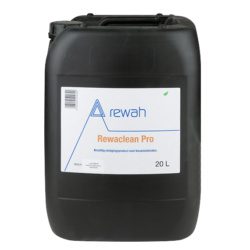 Rewaclean Pro is a liquid, ready for use.
The product is made on a basis of sodium hypochlorite and tensioactive ingredients.
The product acts on the contaminated surface and so to speak the dirt will saponify in which this dissolves into water and the dirt.
After the product has act on sufficiently the dirt of the treated surfaces will be washed away by water.
Rewaclean Pro is used to clean persistent contaminated slate roofs, tiles, concrete, plastering, masonry, facade paint and related alkaline resistant building materials.
Ready to use.
Technical specifications
Processing:
Rewaclean Pro is applied with a pump under low pressure or a nylon brush, on a dry or lightly moisture foundation, starting at the bottom going upwards.
The product acts on immediately and the treated surface can be rinsed off with water after 2 hours under low or high pressure.
It is also possible to rinse out the treated surfaces by rain. In case of persistent contamination, a second treatment may be necessary.
Consumption:
0,15 – 0,25 ltr/m²
Packaging:
20 ltr