Rewanet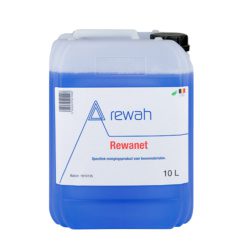 Rewanet is a ready-to-use fluid. Due to its specific tensioactive behaviour the product deeply penetrates the base and stimulates the detachment of foreign substances so the cleaning can take place easily.
Used for the cleaning of slate roofs, tiles, concrete, brickwork and related building materials.
These materials, cleaned with Rewanet can afterwards be painted or made moisture-proof.
Moisten the base slightly befor application.
Technical specifications
Processing:
Apply Rewanet with a soft brush or low pressure pump and let it settle in for at least 24 hours.
Clean the treated surfaces with water under high pressure.
Consumption:
0,15 – 0,25 ltr/m²
Packaging:
10 ltr, 25 ltr