Rewasil 7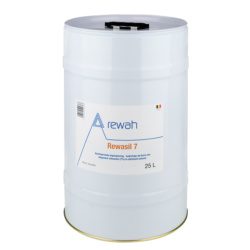 Water repellent product used to reduce the infiltration of moisture into brickwork, without causing any significant changes to its water vapour permeability.
Can be applied to bricks provided these bricks to be sufficiently porous.
This product is specially designed for façades with a high proportion of blue stone and/or glass, as it diminishes marks drastically, if it is spread with a brush before drying.
Rewasil 7 is a modified oligomeric siloxane of the methyl-ethoxy type, which is dissolved in aliphatic solvents.
Contains 7% active substances. The product has a high penetration capacity and is highly resistant to alkalis.
Technical specifications
Processing:
Treatment should preferably involve applying the liquid to the surface, under low pressure, in order to prevent any fogging or vaporisation of the product.
The product should be applied from bottom to top, using horizontal back-and-forth movements, in order to apply approx. 20 cm strokes.
Two treatments should be conducted wet-on-wet.
Consumption:
Between 0,25 ltr and 1 ltr per square metre, depending on porosity.
In order to assess how much product will be required, conduct absorption tests using a Karsten tube.
Packaging:
25 ltr, 1000 ltr
Test reports:
WTCB – DE 622X881N: influence on look, efficiency and drying