Saltblock 2K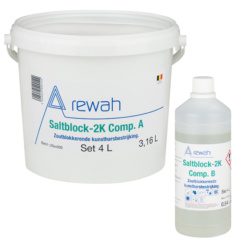 Due to their hygroscopic nature salts such as nitrates and chlorides can cause permanent damage and/or moisture in building materials and their finishing layers.
Saltblock-2K seals these salts so that these damages do not reoccur.
The coating is used as a pre-treatment for paint, plaster and wall paper or as a subsequent treatment following injections against rising damp, sealing cellars, …
Saltblock-2K is a water-based synthetic resin application.
The product reinforces the base and seals the salts already present so that they can no longer absorb moisture from the air.
Technical specifications
Processing:
Apply with roll or spraying gun.
Apply in 2 layers.
Dilute the 1st layer with 5% water.
Apply the 2nd layer at least 24 h and at latest 72h after the 1st layer.
It is important to sufficiently cover all cavities and cracks in the base. With highly irregular bases it could be necessary to apply a third layer.
If the last layer is to be covered with plaster sand must be sprinkled onto the layer in order to obtain a good adhesion to the plaster.
Clean the material immediately with (soap)water.
Consumption:
0,3 – 0,4 ltr/m²/layer
Colors:
Grey (+/- RAL 7042)
Packaging:
Sets of 4 ltr