Saltremove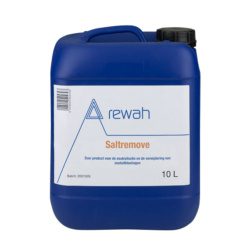 Saltremove  is used to neutralize water soluble salts on affected masonry.
Saltremove penetrates deeply into the surface and neutralizes salt crystals, in order to stop the salts from dissolving, spreading and recrystallizing. Neutralizing these salts therefore makes it possible to prevent them from causing any damage.
Window frames, glazing, metals, blue stone, etc. should be protected before treatment.
Dilute Saltremove with water according to a ratio of 1:10.
Use a low pressure hand-held gun to apply the product to the surface requiring treatment. Any masonry requiring treatment should preferably be dry.
Technical specifications
Processing:
Allow the Saltremove to act for 15 up to 30 minutes, but never allow it to dry.
Then gently rinse the surface with water, in order to remove any salt efflorescences that may be present.
Suitable for indoor and outdoor application.
Consumption:
+/- 0,1 à 0,2 ltr/m² (= quantity to use of the diluted product) depending of the subsoil
Packaging:
10 ltr