Secaugel Inject 2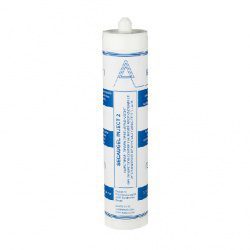 For het injection of walls against rising damp.
Is pumped, by means of a simple system, into holes drilled in the foot of the wall.
Solvent-free.
Easy to use.
Environmentally sound.
Efficient and fast application.
Permanent, effective protection.
The product is sublimated into the capillaries of silicate building material – in other words, it changes from the gel phase to a vapour phase.
The active ingredient thus spreads out evenly throughout the capillary system of the building material, whether wet or dry, and forms a waterproof damp-proof course at the foot of the wall to prevent rising damp by capillarity.
Technical specifications
| | |
| --- | --- |
| Processing: | Apply with a caulking gun |
| Consumption: | +/- 0,12 ltr/linear meter /10 cm wall thickness |
| Packaging: | Tube of 310 ml |