Socli Renochaux NHL 2 White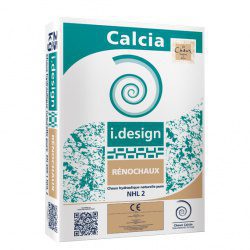 Lime NHL 2 for making mortars or plasters for the restoration of delicate substrates and materials.
Suitable for masonry, tiles, traditional kalei, plaster, tile mortar…
Especially suitable for restoration or new buildings.
Exceptional whiteness: the color of the used sand variety will be accentuated.
High vapor permeability, lets the wall breath.
Plasticity : flexible easy to work mortars.
Excellent adhesion.
Technical specifications
Processing:
Apply in plasters or mortars according to normal recipes.
Rinse off not hardened material with water.
Consumption:
Masonry : 200 tot 300 kg/m³, afhankelijk van de hardheid van de steen
Basic plaster : 300 - 350 kg/m³
Finishing plaster: 250 - 300 kg/m³
Grouting : : 250 - 350 kg/m³

Colors:
White
Mix llme, sand, pigments dry, for a colour indication of the dry mortar
Packaging:
25 kg