Stopaq Spray Gun 530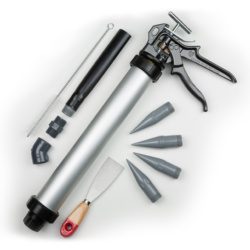 Compact pump, easy to use.
The Stopaq FN 2100 tube of 530 gr fits perfectly in the gun.
No electricity needed on the work place.
No need to pour liquid, no product loss.
With accessories to have easy access in narrow spaces of behind cable network.
Technical specifications
Processing:
open the pump by unscrewing the front part.
Remove the lid of the Stopaq FN 2100 tube.
Slide the tube into the gun.
Seal the gun by srewing the front part on again.
Use the other accessories if needed.
Pump manually to apply the product.
Important : for easy application of the product, place the tube in water of 30°C
Packaging:
Unit
Includes : pump, large nozzle, 4 short nozzles, bent tube, cleaning brush, filling knife, coupler.
Related products

Mono-component synthetic polymer-based sealing compound.
>>> More info