Stopaq FN 2100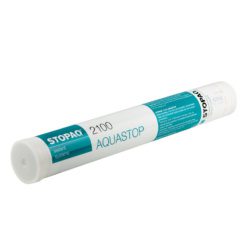 Used to make underground cable ducts and pipelines gas proof and watertight, in compliance with NEN 2768.
Increases in volume under the effect of water, so that cable ducts and pipelines are permanently watertight and gas proof, even in the event of extreme subsidence.
Apply witht the special Stopaq spray gun 530.
Is not toxic, and environment-friendly during application and use.
Adheres to almost any surface, even when wet.
Completely water and gas-proof.
Frost resistant.
Technical specifications
Processing:
In order to ensure that Stopaq FN 2100 is applied in layers measuring no more than 100 mm in depth, it is recommended that you apply a barrier, such as bi-component foam, joint backing and compressible strip.
The barrier must be laid at a depth of at least 15 cm and fully seal the pipeline or cavity.
Stopaq FN 2100 should then be applied up to the barrier, so that the pipeline is completely filled.
The product should first be applied to the base, onto the barrier, before filling the whole area, moving slowly forwards, up to approx. 5 cm of the front side.
The layer of Stopaq FN 2100 must therefore be at least 10 cm in depth and free of any air bubbles.
If necessary, it should be pressed down, so that more of the product can be applied. There must be a space of at least 10 mm between the cables and pipeline wall.
The last 5 cm must also be filled with a fixed barrier, in order to secure the Stopaq FN 2100 between 2 barriers.
The upper barrier should preferably consist of a permanently waterproof sealing mortar.
Consumption:
ca. 1,2 kg per liter of spacing to be filled
Colors:
Green-coloured paste
Packaging:
Tube of 530 gr
Related products

Manual pump for the easy application of Stopaq FN 2100.
>>> More info