Tensiocoat Gelfix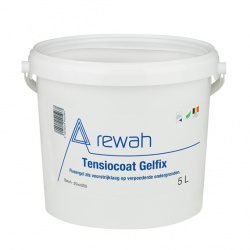 Prime coat of a highly absorbent and/or powdery surface, before painting.
Fixing layer to prevent chalking of walls or plasters.
A ready-to-use micro resin emulsion.
Producing maximum penetration of the resin without changing the initial water vapor permeability.
When dry forms a colourless layer with an excellent adhesion capacity on various building materials.
Technical specifications
Processing:
Tensiocoat Gelfix is ready-to-use.
The minimum temperature during the application and drying out is 10°C.
Consumption:
0,1 to 0,2 ltr/m² depending on the porosity of the base.
Colors:
white
Packaging:
5 ltr