Unicover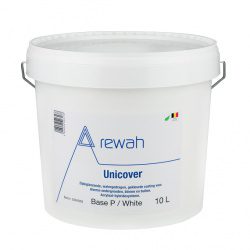 Outdoor paint used for the decorative waterproofing and protection of various building materials such as brick, concrete, wood, decorative plasterwork, …
Applied in the same way as paint used on façades and walls, for new construction and renovation projects, on the inside and outside of buildings.
Can also be used in humid rooms (bathrooms, shower rooms, …).
Acrylate paint, in aqueous phase and suitable for use on the inside and outside of buildings. In addition to the standard white colour, you can choose from a wide range of colours – from pastel shades to vibrant colours.
We can also supply you with base paints, so that you can later add colour using the Monicolor system.
When dry, the Unicover forms a continuous, elastic and waterproof but breathing membrane.
Technical specifications
Processing:
Apply with a brush, a roller or an airless gun in two layers

Consumption:
Facades, walls: 0,125 – 0,200 ltr/m²/layer
Wood: +/- 0,100 ltr/m²/layer
Drying time:
. The normal drying time between two layers is +/- 4 hours.
Colors:
Rewah Paint Colors (2024 colours) + wide range of colors available on the coloring machine.
Shibe:
- Supermat (60°: 3-4; 80°: 1-2)
- Eiglans (60°: 20-30; 80°: 15-20)
Packaging:
1 ltr, 5 ltr, 10 ltr
Test reports:
Cori: report ES160101.a: resistance to wet rubbing
WTCB-report DE651XM507: CO2-diffusion resistance
Related products

Realisations with this product