Vandex® BB 75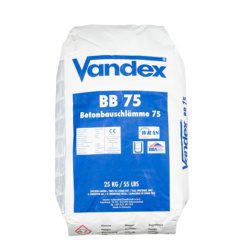 Cement based waterproofing mortar for covering damp cellar walls.
Offers a durable protection against water and damp, and agressive substances residing in the ground water.
Easy processing.
Free of efflorescences.
Technical specifications
Processing:
Vandex® BB 75is prepared with pure water.
Mix the water and the mortar intensely (at least 3 min.à with a mechanic mixer.
Apply with brush or trowel.
Apply in 2 layers on concrete or cement plastering, 3 layers on masonry.
Keep an even thickness of 1 - 1,5 mm. Big differences can lead to cracks.
Keep de previous layer moist.
Protect the fresh mortar from drying by keeping it humid.
Consumption:
+/- 2 kg/m² per layre thickness of 1 mm
Colors:
Grey
Packaging:
25 kg
Dosage:
Per bag of 25 kg, following quantities have to be added:
- with trowel : 5,5 ltr
- with brush l: 6 ltr
- with spray l: 6 - 7 ltr
Related products

Two-component elastic cement-based waterproofing mortar.
>>> More info